Mi-24 'Hind-D' for FSX
The Mil Mi-24 "Hind" is a large helicopter gunship produced by Mil Moscow Helicopter Plant. It has been in operation since 1972 by the Soviet Air Force, its successors, and over thirty other nations.




The images below represent the final product. The texture sets represent typical D's from the Soviet Bloc - Russian, East German and Polish. The paintkit files are easy to use and so it is likely that alternative user schemes will be created. The main texture file is a huge 4096-pixel .psd, this allows for fine detailing on a single map. The sim only supports 2048-pixel so users of the paintkit will need to reduce a copy of their file before conversion to .dds. Please also note that there are a great many switches in the 3D cockpit, but not all can be operated with the mouse, only those with FSX functionality and other custom ones (eg. HUD, wipers) can be used. All gauges are functional. The moving map display is simulated using the GPS, in reality this would be a sliding paper device. It can be switched off or commented out of the panel.cfg if not desired.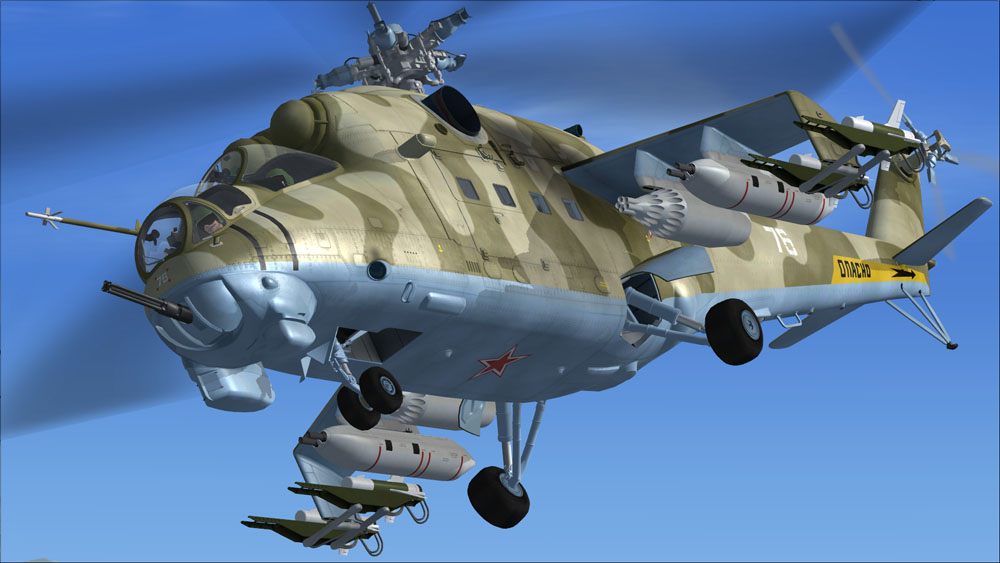 Features :

- very high quality native FSX model.
- very high quality 3D cockpit.
- 3 texture sets and weapons loadouts.
- sharp, 2048-pixel bump- and spec-mapped textures.
- super-smooth 'RealGauge' 3D instruments.
- working windscreen wipers and ventilation fans.
- 4 x opening hatches.
- custom startup smoke effect.
- togglable, animated pilot figures.
- realistic undercarriage and retraction sequence.
- illustrated user manual in PDF format.
- high quality soundset.
- PhotoShop paintkit files provided (4096 pixel resolution).
- Note - NO 2D panel is provided.
- Note - Not all switches/knobs in cockpit are mousable.