Westland/Sikorsky Sea King for FSX
The Sikorsky SH-3 Sea King (company designation S-61) is a twin-engine anti-submarine warfare (ASW) helicopter. It served with the United States Navy and other forces, and continues to serve in many countries around the world. The Sea King has been built under license in Italy and Japan, and in the United Kingdom as the Westland Sea King.


VIDEO : Use right-click, 'save target as' and download the .WMV file to your HD.
Virtavia Sea King Video
Read a review of this model by
Ray's Aviation
, a popular European FS reviews site :
Sea King REVIEW
Read another review of this model at flightsim.com :
Sea King REVIEW
En Francais - here's a review in French by MicroSim magazine :
Sea King REVIEW (French)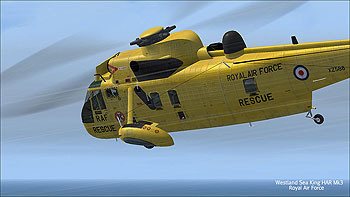 Features -
- TEN model variations with 22 detailed texture sets :

HAR Mk.5, Royal Navy
HAR Mk.3, Royal Navy
AEW Mk.2A, Royal Navy
Mk.48, Belgian Air Force
HC.4 Commando, Royal Navy
HC.4 Commando, Royal Navy (IFOR)
HAS Mk.1, Royal Navy
SH-3A, US Navy, USS Essex
SH-3D, US Navy, USS Hornet
SH-3H, US Navy, USS Hornet
CH-124B, Canadian Forces
HAS Mk.1, German Marineflieger
ASH-3D, Aviazione Navale, Marina Militare
HAS Mk.1, Royal Australian Navy
HSS-2B, Japan Self Defence Force
SH-3D, Spanish Armada
HAS Mk.1, Indian Navy Aviation
HC.4 Commando, Arab Republic of Egypt Air Force
HAS Mk.1, Pakistan Navy Aviation
ASH-3D, Islamic Republic of Iran Navy


- full FSX model with all FSX features (bump mapping, self-shadowing etc)
- authentic virtual cockpit with animations and mousable controls
- rear cabin area included in VC
- night lighting effects in VC
- separately switchable cabin/instrument lighting
- working windscreen wipers
- special custom-made gauges for Hover Control, CDI and GVI (drift)
- stunning realistic texturing with highly detailed weathering
- high quality TSS Sea King soundset included
- togglable realistic pilot figures with animations
- researched and authnetic (with FSX limitations) flight dynamics
- animated entry door, side door
- side winch supported
- note - no 2D panel provided
- 21 -page PDF illustrated user manual in .pdf format