Virtavia Aircraft Source Files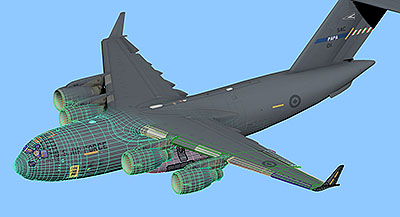 Virtavia is pleased to offer licenses for the the complete .max (Max14, some Max9) model and texture source files as well as accompanying gauge/modeldef .xml and flight dynamics (for FSX/P3D) files for many of its range of aircraft models. These source files will allow experienced developers to produce their own modified, improved or converted versions of Virtavia aircraft as they see fit, for personal or commercial use.

Models and images generated with the source can be sold royalty-free, however it is prohibited to distribute or sell the source files themselves. The texture source .psd files can be distributed freely however. Max14 files can be opened by any later versions of 3DSMax, but not by earlier versions

For those developing for FSX, FSX-SE and Prepar3D, a special Export folder is included with instructions how to easily convert the mesh to a .mdl ready for the sim, as well as texture conversion folders with the necessary executable .bat files for producing the .dds files needed by the simulator. Everything has been thought of to make it easy for the developer to use these source files.

These animated and UV-mapped meshes are not restricted to FSX and P3D - with the right skills a developer can use them to make products for any simulator, such as X-Plane, MSFS2020, DCS World, ARMA, Unity projects etc.

Contact Virtavia on tech.support (at) virtavia.com if you are interested in obtaining any of these source files.
Available Source Files :
C-17A Globemaster III




View complete FSX/P3D model here



Package Contents :

Exterior model - Max 14, faces : 47,169
Cockpit model - Max 14, faces : 121,992
Modeldef.xml for P3D/FSX/SE use
All XML code for gauges
All .fx files and bitmaps
Source textures, incl. normal maps, light maps, gauge .psd's
Flight dynamics files, check & ref. files for P3D/FSX/SE use
Engine sounds are NOT included
Price : $1,500 USD


B-1B Lancer




View complete FSX/P3D model here



Package Contents :

Exterior model - Max 14, faces : 91,281
Cockpit model - Max 14, faces : 50,541
Modeldef.xml for P3D/FSX/SE use
All XML code for gauges
All .fx files and bitmaps
Source textures, incl. normal maps, light maps, gauge .psd's
Flight dynamics files, check & ref. files for P3D/FSX/SE use
Engine sounds are NOT included
Price : $1,250 USD
SH-3 Sea King




View complete FSX/P3D model here




Package Contents :

Exterior model - Max 14, faces : approx. 30,000
Cockpit model - Max 14, faces : approx. 58,000
11 Sea King variants (incl. 'Marine One' exterior & textures)
Modeldef.xml for P3D/FSX/SE use
All XML code for gauges
All .fx files and bitmaps
Source textures, incl. normal maps and gauge .psd's
Flight dynamics files, check & ref. files for P3D/FSX/SE use
Engine sounds are NOT included
Price : $400 USD


B-29A Superfortress




View complete FSX/P3D model here



Package Contents :

Exterior model - Max 14 or Max 9, faces : 123,803
Cockpit model - Max 9, faces : 251,040
Includes Enola Gay variant
Modeldef.xml for P3D/FSX/SE use
All XML code for gauges
All .fx files and bitmaps
Source textures, incl. normal maps and gauge .psd's
Flight dynamics files, check & ref. files for P3D/FSX/SE use
Engine sounds are NOT included
Price : $500 USD
CH-47D Chinook




View complete FSX/P3D model here




Package Contents :

Exterior model - Max 14, faces : approx. 170,000 per variant
Cockpit model - Max 14, faces : 118,895
3 model variants
Modeldef.xml for P3D/FSX/SE use
All XML code for gauges
All .fx files and bitmaps
Source textures, incl. normal maps and gauge .psd's
Flight dynamics files, check & ref. files for P3D/FSX/SE use
Engine sounds are NOT included
Price : $300 USD


Mi-24D Hind




View complete FSX/P3D model here



Package Contents :

Exterior model - Max 14, faces : approx. 250,000 per variant
Cockpit model - Max 14, faces : 112,798
3 weapons loadouts
Modeldef.xml for P3D/FSX/SE use
All XML code for gauges
All .fx files and bitmaps
Source textures, incl. normal maps, light maps, gauge .psd's
Flight dynamics files, check & ref. files for P3D/FSX/SE use
Engine sounds are NOT included
Price : $300 USD
P6M Seamaster





Package Contents :

Exterior model - Max 14, faces : 35,570
Source textures
Includes free P6M pilot's manual with good cockpit info
No cockpit model or animations included
Price : $200 USD


YF2Y-1 Sea Dart





Package Contents :

Exterior model - Max 14, faces : 13,070
Source textures
Includes free YF2Y-1 pilot's manual with good cockpit info
No cockpit model or animations included
Price : $200 USD

B-36H Peacemaker




View complete FSX/P3D model here




Package Contents :

Exterior model only - Max 14, faces : 30,848
Modeldef.xml for P3D/FSX/SE use
All XML code for gauges
All .fx files
Source textures, incl. normal maps
Flight dynamics files, check & ref. files for P3D/FSX/SE use
Engine sounds are included
Price : $150 USD

XB-70 Valkyrie




View complete FSX/P3D model here




Package Contents :

Exterior model - Max 8, faces : 40,844
Cockpit model - Max 8, faces : 50,932
Source textures
Modeldef.xml for P3D/FSX/SE use
All XML code for gauges
All .fx files and bitmaps
Flight dynamics files, check & ref. files for P3D/FSX/SE use
Engine sounds are included
Price : $150 USD
AH-64D Apache Longbow




View complete FSX/P3D model here




Package Contents :

Exterior model - Max 14, faces : approx. 93,000 per variant
Cockpit model - Max 14, faces : 44,844
Modeldef.xml for P3D/FSX/SE use
All XML code for gauges
12 loadout variants
Source textures
Flight dynamics files, check & ref. files for P3D/FSX/SE use
Engine sounds are NOT included
Price : $500 USD

H-60 Black Hawk




View complete FSX/P3D model here




Package Contents :

Exterior model - Max 14, faces : approx. 62,000 per variant
Cockpit model - Max 14, faces : 68,560
Source textures, incl. normal maps
6 model variants
Modeldef.xml for P3D/FSX/SE use
All XML code for gauges
Flight dynamics files, check & ref. files for P3D/FSX/SE use
Engine sounds are NOT included
Price : $750 USD